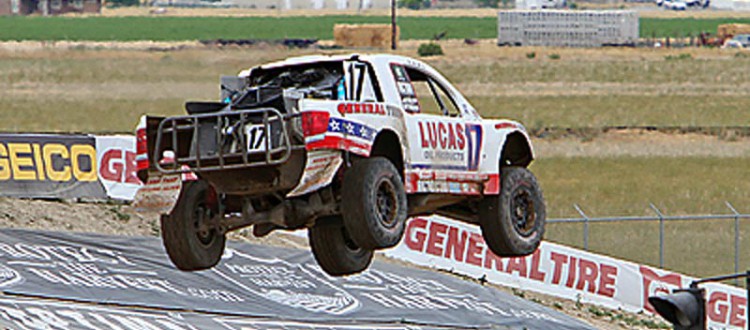 Renezeder Sets Win-Streak Record in Pro-4 at Nine in a Row
Round seven of the Lucas Oil Off Road Racing Series season played host to both a record-setting win for Carl Renezeder, as well as the end of his winning streak in the Pro-4 division. He now holds the record for nine wins in a row in his Pro-4, going back to round 15 of the 2012 season, the Challenge Cup race and the first seven races of 2013.
Round eight was very close to extending that record, but he finished in 2nd Place. "It was my own fault – total driver error," explained Renezeder after Sunday's Pro-4 race. "Going into turn four, I went to set the truck and hit the wrong brake pedal – So frustrating!" Renezeder has always run a split pedal system in his trucks, allowing him to use all four brakes or front only. Sometimes you just make a mistake. For the rest of us mere mortals, it reminds us that he is, in fact, human.
The team remains proud of everything he has, and continues to accomplish, and a second-place finish to follow up a nine-race winning streak leaves no room for hanging heads.
They headed home with three seconds and a win at a very tough track, and they remain in the hunt for two championships. All is well in the Team Renezeder camp.
Both days of the Pro-2 races proved how tough the Pro-2 competition is. Renezeder put up a good fight, but MacCacheren had a flawless truck, drove great races and kept Carl from the top of the podium both times.
"Rob didn't come out to play today," joked Renezeder from the second spot on the podium on Saturday. The same seemed to hold true on Sunday, and Renezeder held off some hard chargers both days to finish as well as he did.
"Our truck is good, but we obviously have some homework to do," continued Renezeder. "We'll get it figured out for Glen Helen next month. I'm looking forward to it."The team has a few weeks to get some testing in before heading to rounds nine and ten, held at Glen Helen Raceway in San Bernardino County, California – the first night races of the season – the weekend of July 26-28.

Results from LOORRS Rounds 7 and 8 at Miller Motorsports Park, Tooele, UT (Jun 21-23, 2013):
Pro-2: Rnd 7 – qualifying: 5th; race: 2nd
Pro-4: Rnd 7 – qualifying: 2nd; race: 1st
Pro-2: Rnd 8 – qualifying: 2nd; race: 2nd
Pro-4: Rnd 8 – qualifying: 2nd; race: 2nd